Travel
Mermaid Tails and Tacos: Summary of Our Tulum Retreat
Where we are: I'm sharing my 2022 journey, including this trip to Mexico in February. Are you a blogger wanting to learn more about how I built my retreat business? Don't miss Travelcon, where I will be speaking on that subject! Use the code ALEXINWANDERLAND to get $50 off your ticket!
When I first launched Wander Women Retreats in 2018, my inaugural offering, a diving and yoga retreat, seemed so intuitive that I was shocked someone else hadn't done it first.
Fast forward to 2022, and things have gotten a little more erratic. Yes, we still offer our signature combination of diving and sun salutations in destinations worldwide. But this trip, in partnership with my dear friend Brenna Bradbury and her company High Flying Retreats, was a very creative one to start the year with – aerial view and mermaid. Yes, mermaid!
Like aerial arts, mermaids, for me, is about tapping into this sense of play, joy, creativity, and fantasy that I often lose touch with as a woman trying to be taken seriously. I laughed a little when I first thought of combining them for a retreat, but you know what? It was indeed magical.
After a beautiful few days in Bacalar, all set for the retreat ahead, I couldn't wait to take Brenna to Tulum and show her the place that inspired our next big adventure.
We treated our local retreat workshop hosts to dinner at Asian Bodega to celebrate kick-off the following day before finishing with a nightcap at the hotel I stayed at on my first trip to Tulum. Many years and travels since then – what a circle to revisit, just as I was able to play hostess to my group of first-timers!
One of Brenna and I's many shared love languages ​​is gift-giving, so we go wild on our retreat welcome bags.
These were filled with siren swag like eco-chic Mermaid Straw sets, holographic Fin Pin-mer stickers, shell pasties, starfish sunglasses, tail hair clips, and of course, our classic Green Blanky Studio print plus a cute little illustrated key ring.
It was a little bit of everything I strive for in our welcome bags – and at Wander Women Retreats in general: supporting women-owned small businesses, being eco-friendly, and making people smile!
Our retreat was based around the truly stunning Tulum hotspot Holistika, a sprawling jungle compound that houses an array of beautiful studios and spaces – including an aerial view!
But for our first night, when guests from all over the world gathered, we just wanted to have some fun and get to know each other. So I invited my friends and local acro superstars Samm and Ale from Acro Travels to lead an opening workshop for us at the otherworldly Holistika Dome.
For a retreat of just five days, you'll want to become fast friends – and there's no better way to build confidence and break the ice than an acro lesson! While most of our guests had never tried it before, as aerial photographers, they had a head start — pun always meant, duh — with body awareness and strength, so I'd say everyone took it like mermaids in the water.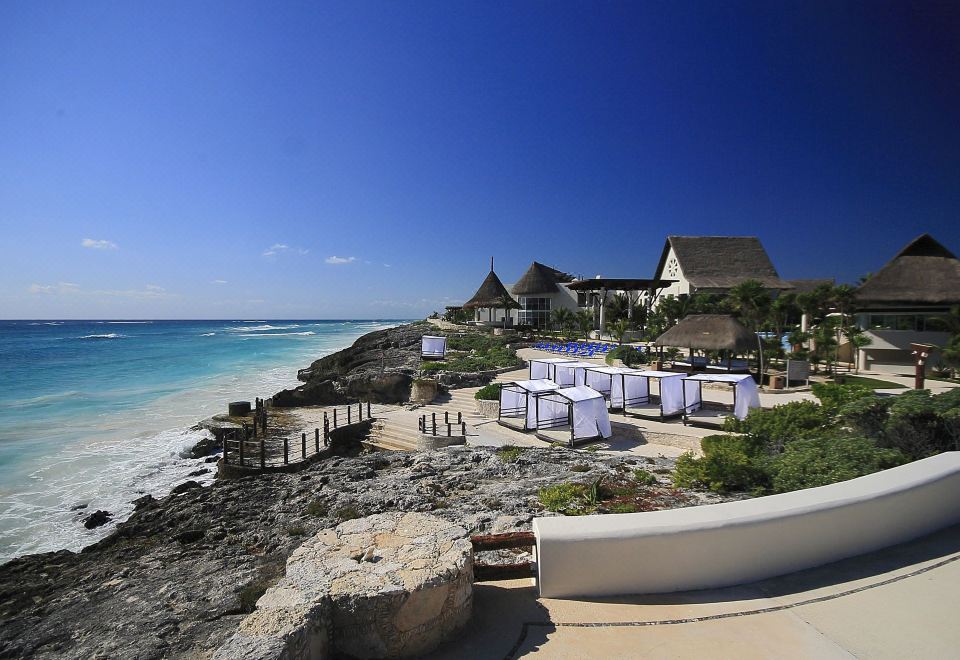 Samm and Ale take their photos as part of their workshops, and I loved seeing their moody perspective on things! While I always say I'm not going to be shooting retreats anymore – at this point in my retreat career, I'd rather hand that job over to a dedicated team member to focus all my attention on hosting – it seems to end up in my hands now and then.
If so, bonus photos like this one are a treat!
After getting up close and personal, it was time to party! I knew exactly where to take everyone for opening night – a private dinner at Mamasan, one of Tulum Beach's hidden gems. On a stretch of sand not exactly known for its snobbery, I love this rooftop restaurant's friendly faces, delicious food, and relaxed atmosphere.
I was so happy when I approached them, and they offered to put together a multi-course Mexican welcome party for us in the candle-lit sky!
I may not be much of a foodie, but you are not taking a retreat to Mexico and are not obsessed with what people will eat! It was a wonderful start to the trip and a great setting to get to know everyone. I loved reconnecting with our repeat guests from our Martha's Vineyard trip and meeting all the beautiful fresh faces that were new to me.
The next morning we were up and running again! We had chosen Holistika specifically for its beautiful sky sala, and Brenna guided us through the first two silk workshops right on the spot after a nourishing morning breakfast.
Although I am a regular student of Brenna in New York, our retreat workshops remind me why people travel the world to train with her. It is unbelievable how much knowledge she can convey to those at every stage of their air journey in just ninety minutes.
And can we talk about how stunning this space was? I couldn't get enough of our jungle paradise in the sky, swinging from the tales – or silks, en español.
Say what you will about Tulum – and, er, people say a lot – but the design, interior, and architectural details are simply unmatched by any other destination I've ever been to.
After working up a sweat, it was time for the mermaid portion of the retreat to get splashed!
While Tulum is spoiled for choice when it comes to cafes, I felt I was required by law to take the girls to Hola Mermaid Tulum, a tucked-away little restaurant in town serving healthy, beautiful food in the most instagrammable presentation.
From taro lattes to spirulina smoothie bowls, these sirens were more than happy! The cafe is tucked behind a trio of cute little boutiques, which also gave you some bonus shopping in one of my favorite pieces of Tulum Pueblo.
After lunch, we were taken back to the jungle for an afternoon at Cenote Cristal with my sweet Carmen from Tulum Mermaid, where we were about to enjoy her signature Mermaid For A Day program. I've just completed my own PADI Mermaiding courses – otherwise known as the Mermaid For Life program. I was an enthusiastic assistant as we pulled our tails and started splashing around!
When the skies opened up, and it started raining for the first time all week, I groaned — but that attitude soon changed when I realized the crowd had fled and we had the cenote to ourselves.
I loved watching our aerial photographers take this underwater art form and create their little mermaid pod! And it was the first of many siren swims – thanks to my new set of two Mahina Mermaid fins, we could pack everywhere and take the mermaid with us.
That evening we went to one of my favorite hot spots in Tulum, Palma Central.
Considering how hard it is to get the corner of a couch here on a busy night, you could hardly call it a "hidden gem", and yet it's crazy to think how many Tulum visitors never leave the beach and do not know the buzz of the community and events that take place in the city in this way! I loved showing it to our guests.
I can't think of a better place to take a group. After securing an essential table reservation, everyone could browse the food trucks of their choice, grab a cocktail from the bar, and enjoy the live music, the evening's craft market, and the countless treats at their own pace.
Some might say it was a party, honey.
Hard to believe how much magic we made in just two days of this unusual retreat! And the fun had just begun.
Curious about the next collaboration between Brenna and me? Don't miss our retreat in Israel this summer — refocusing on the sky! More on that soon, but in the meantime…
Stay tuned for Part II coming out this week!